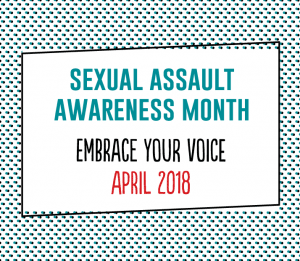 In the wake of the powerful #MeToo movement, there has been an explosion of conversation around sexual violence, and we are starting to see how many people it affects worldwide. April is Sexual Assault Awareness Month, and we want to share some information with you all to think about throughout this month of awareness and tell you what you can do to help.
Did you know that teenagers account for 51 percent of all reported sexual abuse? Think about that – over half of the reported cases of sexual abuse happen to people ages 12-19. Worse yet, teenagers between 16 and 19 are 3.5 times more likely to experience sexual abuse than anyone else. One in two women and one in five men will be sexually abused in their lifetime. This is a real problem guys, and it is huge.
Knowing the statistics is great and all, but what can we actually do about the problem? This issue is so massive, we couldn't possibly know how to fix it, right? Actually, you already know what you can do – Green Dots.
Green Dot was created for tackling giant problems on a small scale. Each individual does their part to make their community safer and to help those around them.
So, how can you help end sexual assault?
Make it clear that you are not okay with sexual assault happening in your community, your school or your friend group and do one thing to stop it if you see a situation where someone could be taken advantage of.
Check in with your friend who's in a relationship to see if everything is okay, ask the two people leaving the house party together if they know each other or call someone out if they're being too pushy or handsy with someone else.
If you aren't comfortable getting involved, do something to distract the situation or ask someone else to step in.
Don't think that sexual assault going on in your community is "not your business." Violence in your community IS YOUR BUSINESS. If it were you or someone you loved, wouldn't you want someone to step in and help? If you see a high risk situation, be that person for someone else.
The solution starts with all of us. If we all do our part in our everyday lives, the problem will become smaller one Green Dot at a time.
If you or someone you know has been a victim of sexual assault and needs to talk, you can find Refuge House's 24 hour Crisis Hotline contact information here, or visit the online RAINN National Sexual Assault Hotline to live chat with a counselor. These services are completely confidential. We're here to listen, and we want to help.